CDOP Seminar: Sudden and Unexpected Deaths in Children
Date & Time:
Wednesday 26 January 2022
(09:00 - 13:00)
Notify me of future occurrences of this event
Venue:
Virtual via MS Teams,
Detail: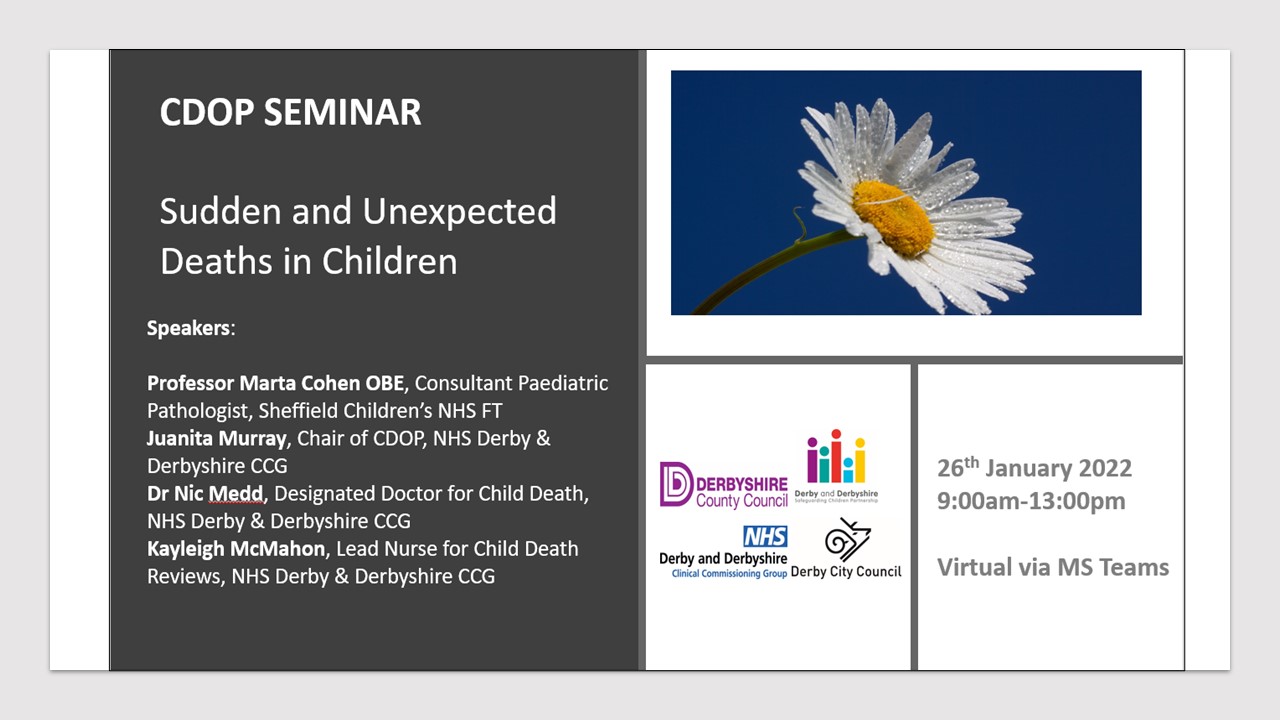 About this event
Join us at the CDOP Seminar: Sudden and Unexpected Deaths in Children to hear the latest from Child Death Overview Panel (CDOP) and learning identified from themed panels. The sudden and unexpected death of a child is a tragedy and as with all deaths of children it is important that CDOP review the child's death thoroughly within the context of the family, environment, and service delivery to understand and disseminate any learning from the review with the aim of preventing future deaths.
Sudden infant death syndrome (SIDS) is the sudden and unexpected death of an infant under 12 months of age often during normal sleep. The death remains unexplained even after a thorough investigation which includes a complete post-mortem examination, review of the circumstances of death and the clinical history. Rates of SIDS deaths in the East Midlands are now amongst the highest in the country (Lullaby Trust, 2020).
The death of a child by suicide is an unimaginable tragedy; a young life is lost, and a family is devastated. Deaths by suicide among children has become a public health priority. Suicide has risen in this age group for at least a decade, in contrast to the more fluctuating pattern in adults (NCMD, 2021). As with all deaths of children and young people, there is a strong need to understand what happened, and why and to ensure there can be learning to prevent future deaths by suicide.
Why Attend:
✓ Hear about the child death review processes for children who die suddenly and unexpectedly
✓ Listen and learn from an expert in the field of SIDS
✓ Understand how the learning from CDOP can prevent future deaths
✓ Receive an update on local strategies (including Keeping Babies Safer)
Details of the the speakers and presentations can be found in the attached Programme CDOP Seminar Programme_.docx
Booking:
Booking has now closed for this event.
Further Information:
Type:
Virtual via MS Teams
Enquiries:
Sarah O'Brien
Trainer:
Juanita Murray and Kayleigh McMahon
Venue Details:
Virtual via MS Teams,